Teinikivi, or Teineinkivi or Teinikivi, is a large sedated boulder located in Oripää, Oripäänkangas, on the old Tampereentie road.
Kivi has been named after teenagers who have been begging for study money in the summer. The teenagers reportedly sat on a boulder next to the historic Huovintie, mimicking fishing and collecting customs from passers-by. The stone is about 2.5 meters high.
Myllylähde is about two hectares of the large, dammed spring barn. It is one of the largest sources in the Nordic countries in terms of dewatering. At the edges of the source you can see many rare plants, as well as birds. Due to its nature values, the source and…
View more
The frisbee golf course starting at Aura's Maijantie is a beginner-friendly 9-way forest track for playing frisbee golf. The track is freely available to everyone. The Frisbee golf course also starts with the Pikku-Lahto fitness route. The track is maintained by Auran Kuntoilijat Ry and the municipality of Aura.
View more
A summer café next to the church, run by the Aura Local Area Association. On the upper floor of the building there is an exhibition space where the association compiles an annual exhibition on the history of the locality and the lives of the Aura people. Space can also be…
View more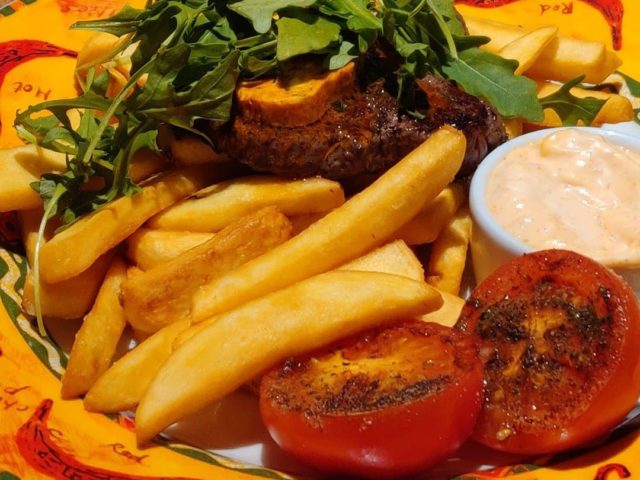 Cozy atmospheric Restaurant Hulluponi Aura has a menu of local good food, pizza, salads of burgers and tasty desserts! Eat on site, pick up or ask for food to be transported to your home. Restaurant with A-rights along the tourist road warmly welcomes you.
View more
Matin Mainio is manufactured in Aura. The small but efficient factory is run by entrepreneur couple Minna Hirvelä and Marko Mäkilä. This team manufactures mustard using traditional methods from start to finish themselves. Matin Mainio has four different mustard tastes. Traditional, garlic, chilli and cogna. Matin Mainio Ketchup and Matin…
View more
Finland's Small-Lapland. Several lean-tos, in winter a network of skis, in summer hikes. Harjureitti is a 28 km long outdoor route established in 1998, which received official outdoor route status in 2016. Known as the "Pikkulappi" section, the routes are located in the border area of Southwest Finland and Satakunta…
View more
Boksishop Aura is a private hardware store where you can find a wide range of products for construction and renovation.
View more