Auran Aarteet – Flea Market
Atmospheric flea market in Aura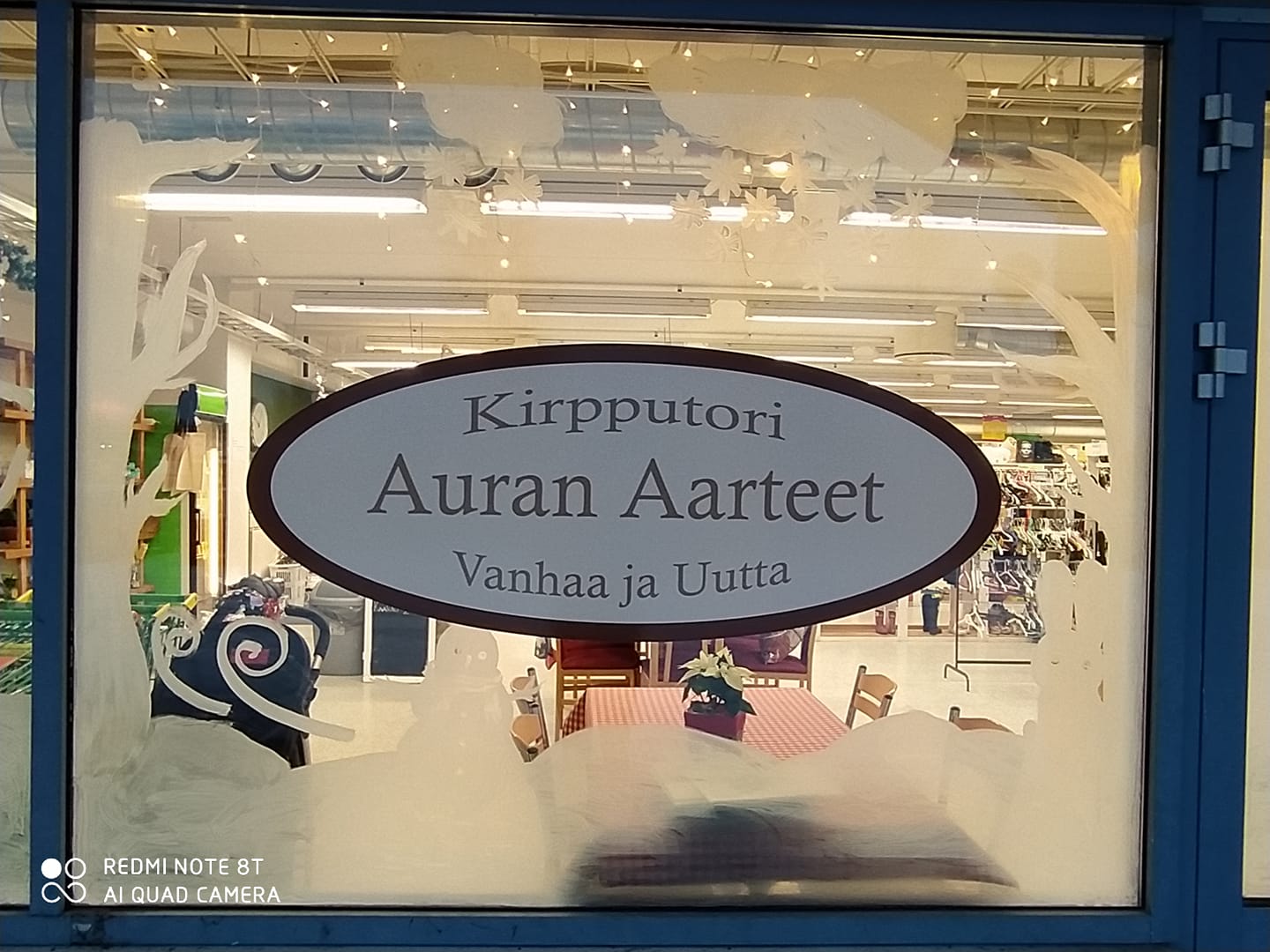 Meijerikuja 1, 21380 Aura
60.649522511976, 22.588716473574
Meijerikuja 1, 21380 Aura
60.649522511976, 22.588716473574
Versatile and cozy flea market in the center of Aura. Cafeteria, sewing supplies, fabrics, furniture, local produce and sewing service.
Welcome!
http://www.tuuseikkailee.fi Phone number: +358442632007 Email: tuuseikkailee@gmail.com Open: from 9 a.m. to 9 p.m.
View more
Built in 1821, the church is shaped like a cross church. The new classic wooden church has remained in its original outfit.
View more
In the centre of Aura there is a multipurpose building, Auraamo, which has activities for all ages. The homely furnished living room is open from Monday to Thursday from 08:00 to 16:00 and on Fridays from 08:00 to 15:15. The space serves as a public lounge and meeting place for…
View more
The coffee cuseum is full of nice memories: coffee packets, coffee pots, coffee grinders, coffee cups, coffee roasters, or bikers, and much more coffee-related items, not forgetting the collectibles of coffee packets. Flea shelf that can be made into coffee related discovery. In connection with the museum, our partner is…
View more
Krapuranta is a caravan and camping area consisting of a small ridge of sand, a forest and a flat lawn-based field area surrounded by forest. The area is ~5.5 hectares. The area is located along good transport connections, there is a permanent paved road up to the gate of the…
View more
Cute little farm cottage for an atmospheric stay. Come and relax in the steam of the wood sauna in the yard and hot tub water heat. Overnight accommodation for five, suitable for a couple or family, there is a double bed, a spreadable sofa and armchair. Bed linen and towels…
View more
Finland's Small-Lapland. Several lean-tos, in winter a network of skis, in summer hikes. Harjureitti is a 28 km long outdoor route established in 1998, which received official outdoor route status in 2016. Known as the "Pikkulappi" section, the routes are located in the border area of Southwest Finland and Satakunta…
View more
The Reppuniemi outdoor museum area has buildings from the 18th and 19th centuries. Buildings have been moved to the site Since the 1960s and there are a total of 13. The courtyard of the residential building is located in the summer of the Pöytyä Summer Theatre as a stage. Access…
View more